Lamplighter: The Pastor's Pen
"8 Now there were in the same country shepherds living out in the fields, keeping watch over their flock by night. 9 And behold, an angel of the Lord stood before them, and the glory of the Lord shone around them, and they were greatly afraid. 10 Then the angel said to them, "Do not be afraid, for behold, I bring you good tidings of great joy which will be to all people. 11 For there is born to you this day in the city of David a Savior, who is Christ the Lord. 12 And this will be the sign to you: You will find a Babe wrapped in swaddling cloths, lying in a manger." 13 And suddenly there was with the angel a multitude of the heavenly host praising God and saying: 14 "Glory to God in the highest, And on earth peace, goodwill toward men!" Luke 2:8-14
The other day I was looking at headlines on the internet. One of the stories that caught my eye had to with an Irish priest who suggested the church find another name of Christmas.
The first thought that came to my mind was, "Oh no another 'Get rid of Christmas and call it the happy holidays.'" Actually, once I got into the article I discovered that was not the case. The priest thought that the word "Christmas" had become so commercialized that it had lost much of its true meaning. He suggested the church find another word to identify Christmas that focuses on Jesus' birth.
I am not sure we need to find another word for Christmas. It is likely if we tried no one would accept it anyway. What we can do is to make sure we, and our families, love Christmas for what it really is!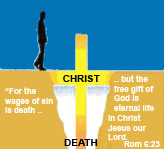 Look at the diagram to the left. It reminds us we are separated from God. We are sin! We deserve death.
Christmas is all about the free gift God has given us through His Son. Our sins are forgiven. The punishment of eternal death has been appeased by the Son. We are free! We are restored to the Father!
Christmas is about Jesus! It is freedom from the curse of sin! It is a future that last forever with God!
This Christmas enjoy the exchange of gifts and the gathering of families around the dinner table. Enjoy the baking and shopping. But more importantly thank God for the gift of His Son.
Pastor Michael Parris