SACRAMENT OF THE ALTAR WINDOW
LUKE 22: 19-20 And He took bread, gave thanks and broke it, and gave it to them saying "This is My body given for you; do so in remembrance of me." In the same way, after supper He took the cup saying, "This cup is the new covenant in My blood, which is poured out for you."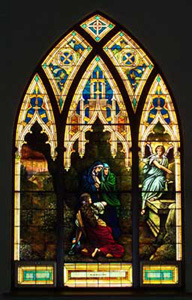 RESURRECTION WINDOW
MATT. 28: 5-6 The angel said to the women, "Do not be afraid, for I know that you are looking for Jesus, who was crucified. He is not here; He has risen from the dead. Come and see the place where He lay."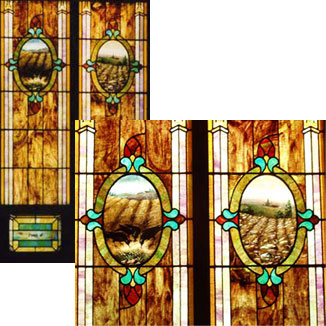 PARABLE OF THE SOWER "BIRDS AND ROCKS"
LUKE 8:5-6 A farmer went out to sow his seed. As he was scattering the seed, some fell along the path; it was trampled on, and the birds of the air ate it up. Some fell on the rock, and when it came up, the plants withered because they had no moisture.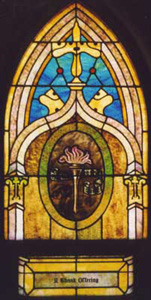 THANKSGIVING WINDOW
PS. 136:1 Give thanks to the Lord forever, for He is good.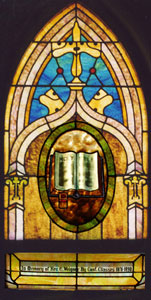 SACRISTY WINDOW
PS. 119:105 Your word is lamp to my feet and a light to my path.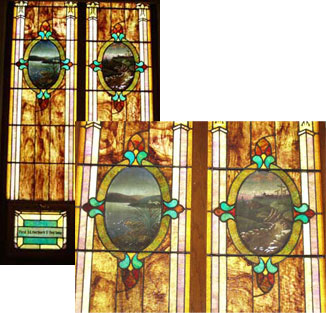 BETHLEHEM STAR WINDOW
MATT. 2:2 Where is the one who has been born King of the Jews? We saw his star in the East and have come to worship him. LUKE 2:10 But the angel said to them, do not be afraid. I bring you good news of great joy that will be for all the people.
SEA OF GALILEE WINDOW
MATT. 15:29 Jesus left there and went along the Sea of Galilee. Then He went up into the hills and sat down. JOHN 19:17-18 Carrying His own cross, He went out to Golgotha. Here they crucified Him, and with Him two others, one on each side and Jesus in the middle.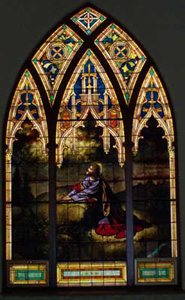 GARDEN OF GETHSEMANE WINDOW
MATT. 26:42 My Father, may Your will be done.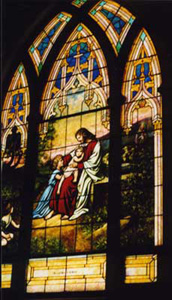 LITTLE CHILDREN WINDOW
LUKE 18:16 Suffer the little children to come unto Me, and forbid them not: for of such is the kingdom of God.

PARABLE OF THE SOWER "WEEDS AND HARVEST"
LUKE 8:7-8 Other seed fell among thorns, which grew up with it and choked the plants. Still other seed fell on good soil. It came up and yielded a crop, a hundred times more than was sown.